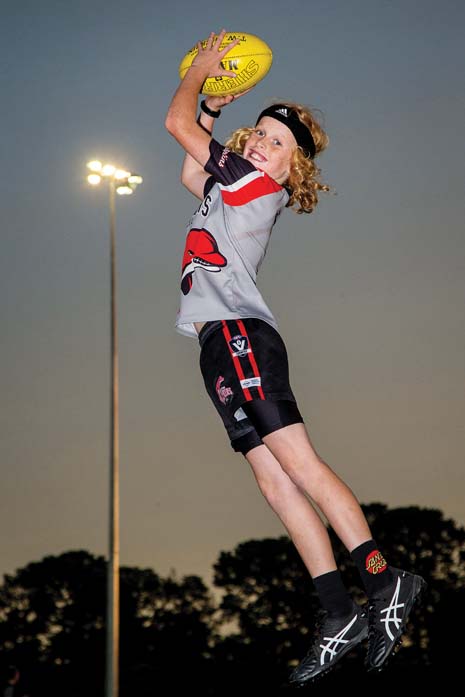 MATCHING funding announcements from both major political parties seem set to be a political tactic in the lead up to November's state election.
Premier Daniel Andrews attended the Frankston Dolphins' first game back in the VFL last Saturday (7 April) and announced a re-elected Labor state government would include $700,000 towards new lighting at the club's stadium.
The lighting followed a similar pledge by Liberal opposition leader Matthew Guy late last month when Mr Guy said $650,000 of taxpayers' money would go towards new stadium lights if the Coalition wins government ("Friday night lights for Dolphins' stadium", The Times 26/3/18).
Dolphins general manager Gary Buckenara said the lights will cost about $1.9 million in total and the club hopes Frankston Council and the federal government will also contribute towards the project.
"It will be great for the whole region because it would bring an opportunity for Friday night or Saturday night games or VFL games of the week to be played here," Mr Buckenara said.
"That brings more people into the business area of Frankston so it's a win for businesses within Frankston."
He suggested ALFW games could be televised at the stadium since the lights ensured evening play is "broadcast quality".
Mr Andrews said in a statement: "The Dolphins are a proud part of Victoria's football history and a cornerstone of this community – this funding will ensure they have the facilities they need to train, win and grow.
"The Dolphins are Frankston, through and through. With this investment, we're backing the club and the community."
Frankston is one of four "sandbelt" seats along the Frankston line that are pivotal to each parties' chances of forming government in November.
Frankston, Carrum, Mordialloc and Bentleigh are all marginal seats.
"This investment will help strengthen our club and our community – building success on and off the field," Frankston Labor MP Paul Edbrooke said.
"It's great to see the players back out there, and I'm looking forward to cheering on the mighty Dolphins this season."
Mr Edbrooke faces Liberal candidate Michael Lamb, a police officer based in Frankston and latterly Mornington as part of new police unit in Mornington to tackle drug dealing and trafficking across the region, in November's election.
The Labor MP won the seat at the 2014 state election with a margin of less than 1 per cent so the electorate is regarded as being ultra-marginal.
The Dolphins' Frankston Park stadium is named SkyBus Stadium for its first season back in the VFL after coming out of voluntary administration last year.
Federal Liberal Dunkley MP Chris Crewther late on Friday (13 April) switched on new lights at the Frankston Dolphins Junior Football Club at Overton Road in Frankston South.
The lighting for juniors was funded by $300,000 in federal funding, a state contribution of $100,000 and $27,000 from Frankston Council.