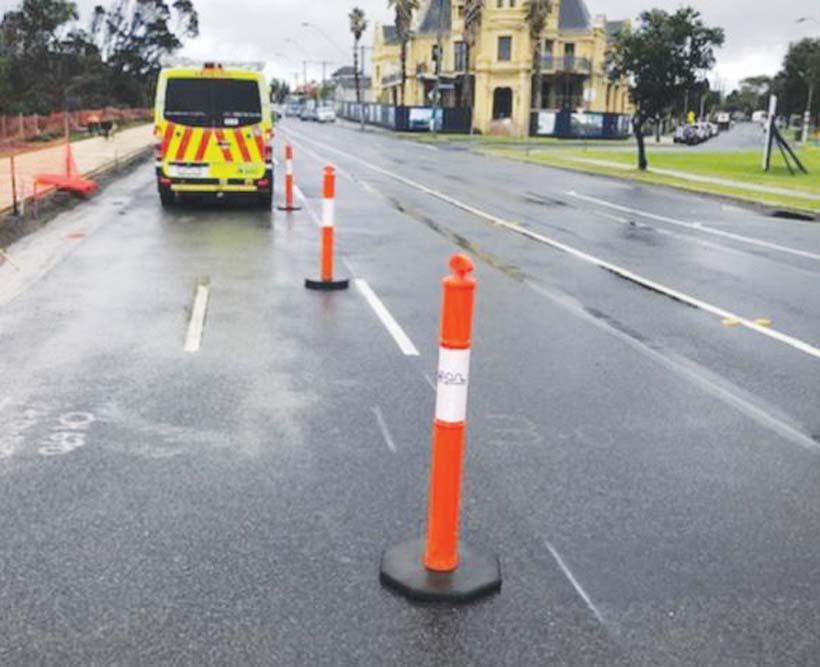 A REPORT looking into the safety of works on the Bay Trail has revealed that there have been seven reported incidents related to the project.
The report also outlined the responses by Kingston Council to each reported incident at the worksite between Naples Road in Mentone and Rennison Street in Parkdale, and the date that the incidents occurred.
On 13 February, an elderly resident sustained a leg injury after entering the worksite. WorkSafe later visited the site, but did not issue any fines.
Just two weeks later a cyclist struck an orange safety bollard at the site. Contractors on site undertook traffic management while waiting for an ambulance. WorkSafe was notified of the incident.
Cr Geoff Gledhill reported that a resident had informed him of a cyclist being hit by a vehicle at the corner of Warrigal Road and Beach Road, 20 March. The report read that when followed up with contractors and Moorabbin and Cheltenham Police, all were unaware of the incident.
The report also outlined practices at the worksite which council had deemed "not acceptable". On 27 October last year it was reported to council that around five bollards had been dropped from height to remove concrete at the site. Council sent a letter to contractors on 30 October telling them they did not approve the method. The work practice was ceased and footage was shown to WorkSafe.
At council's last meeting, they approved a motion which read "that council note the information in the report detailing the number and nature of safety incidents, the responses to the incidents, and that the construction of the Bay Trail is in accordance with 26 June 2017 resolution as evidenced in supporting documentation."
The safety report was ordered by Kingston councillors in February. In March they debated rescinding that motion, but eventually decided that work on the report should proceed ("Bay Trail safety report to proceed", The News, 8/4/20) .
The controversial Bay Trail project will link a shared pedestrian and cyclist off-road path between Mentone and Mordialloc. 
First published in the Chelsea Mordialloc Mentone News – 13 May 2020