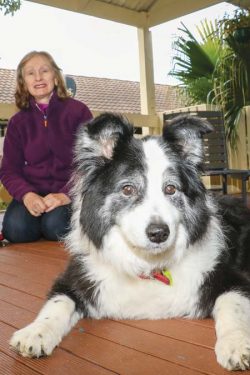 DOGS will finally be welcome in Frankston's city centre from January 2022.
Frankston Council has long been debating the dog ban, which prohibits dogs from being in the area bordered by Davey Street, Kananook Creek, and Fletcher Road. Last week the ban was finally abolished.
Dogs will be required to be on-leash while in the city centre.
The completed review of council's animal orders will also see a dedicated dog beach set up at Keast Park in Seaford. Councillors had considered making the beach area at Oliver's Hill a dedicated dog beach, but ultimately decided for the Seaford option instead.
The proposed 24 hour cat curfew was also considered at council's most recent meeting. It was not approved, meaning cats will still have freedom to leave their homes during the day.
Genevieve's Dog Walking and Social Group founder Suzanne Gardner said the new rules were exciting for dog lovers. "These are progressive decisions that will increase community participation, add to social cohesion and come at a time when we need it most emerging from lockdown. The new dog beach and allowing dogs in the city centre will help people to reconnect," she said.
Outgoing Frankston mayor Kris Bolam said "our pets are important family members who boost our wellbeing with their unconditional love. It's understandable that we only want the best for them. Council animal orders are in place to guide and support owners' management of their pets so they can live in harmony with neighbours, our wider community, local wildlife and the environment."
"Earlier this year we asked our community to vote on three animal management orders. We asked if they wanted a dedicated dog beach and over 73 per cent of respondents said yes," he said. "Following much deliberation, councillors voted at the 15 November council meeting in favour of Keast Park, Seaford as the safest place for a dog beach with 200 metres of sand for them to run and play. Keast Park is much less populated than Olivers Hill with direct parking and access via a fenced walkway. Councillors felt it was important to protect the amenity of Olivers Hill and ensure it remains a safe destination primarily for people, water sports and boats."
Council voted to review its domestic animal management plan in April this year, with the city centre dog ban, a 24 hour cat curfew, and the establishment of another dedicated dog beach the three issues in focus.
The previous council came under fire in 2020 when it chose to remove consultation on the city centre dog ban from its DAMP review ("Community denied say on dog ban", The Times, 17/3/2020).